Wednesday, 11, April, 2001 - arrival in Milan

"Liquid Loneliness" is that thirst that runs through my breasts and soul when I wake up in a strange place, feeling the tug of people far away from me.


Wednesday, 11, April, 2001 - Milan train station

That familiar smell of travel - old cigarette smoke in a newly-cleaned train. Is it only in these in-transit places: trains, airports, hotels, that I feel at home?


Wednesday, 11, April, 2001 - later - arrival in Florence

Seven years of hell just slipped off my shoulders. Just disappeared.

All those Chinese and Sinophiles who insist that there is nothing more to life than what can be used… they just don't matter anymore. Because I've just seen proof that there is something more.

Someone built that - the Santa Maria Novella - and they knew too. They knew that there was more. Now I know I am not alone.

Soggiorno Nazionale
Via Nazionale 22
055-238-22-03
L90,000/nt
Booked for one week


Thursday, 12, April, 2001 - the Uffizi

Socialist realism - portraying people as happily living the lives the Party tells them to - happily putting aside their own interests for those of the movement - Michelangelo's "the Holy Family" does something of the same thing. Not sure what it is - pro-family propaganda? "Dutiful"?? A lie - propaganda showing complete selflessness - which of course isn't honest.

Busto di Antinoo (muore nel 130 d.c.) inv. 1914 n. 327 Ritratto di eta adrianea in Gallena dal 1671. Beautiful!!!

Giottino's "Pieta"
c. 1360-1365

The story these faces tell is amazing! Everything I ever wanted to say about power, and the reasons (naivete, genuine love and admiration of someone great, genuine devotion to an ideal) people allow themselves to be used by it.

The blond woman on the left - she is from the '60s! What is she trying to prove with her love? What guilt or self-hatred is she trying to erase through blind adoration? And this one, kneeling with the priest's hand on her head - she doesn't want to be here. Her father made her come.

This one in the corner, weeping at a slight distance from the body of Christ - she is crying for herself, not for him. She was in love with him.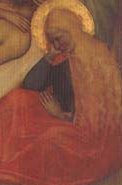 Thursday or Friday, 12 or 13 April, I forget. Still 2001

Piazza Santa Felicita:

The waiter gets a big tip for being Italian.

Quietly having food orgasms on the streets of Florence.

The big question of the day: Will the pigeon get laid?


Friday, 13 April, 2001

Saw Bobo Rondelli sing at "Flog."

Luca: 055-416312

No-one here thinks you're nuts for just stopping and looking at something for minutes on end. Hell, you could do it for days, and no-one would care.

It's the first place I've ever felt really relaxed -- not at all self-conscious. Japan is different. Yes, I felt relaxed and free there, but also like a foreigner - like I get a special trip, it's OK for me to foolish. Here, I feel like I might even fit in.


Saturday, 14 April, 2001

Dropped Palm Pilot on cobbled streets of Florence while calling Luca.


Sunday, 15 April, 2001

11:00am - Duomo - see the blowing up of the giant Easter cart.

12:30 - lunch

Then - try Internet Café - send message to Palm re: repair!! (It is under warranty!)

Internet Train: Ponte Vecchio, Borgo S. Jacopo 30r. Also: Giuseppi Verdi - across from #19.

5:00pm - Meet Luca in front of David.

Useful phrases they didn't include:

1. Tell me I didn't just eat that whole basket of bread.

2. Happiness is being seduced by a city.

Note: Broken screens are not covered by warranty.


Tuesday, 17 April, 2001

Get train tickets for Thurs.

Get Catullo's "Canti" - Roman poet "Eros e Amore" In English: Catullus.

Sitting in Luca's kitchen while he cooks pasta and fish for me and makes his special salad and we feel like friends. Listening to Elisa. Feeling close - like friends, like lovers, like trust - knowing it isn't the Big Thing, but that it's still good and that we can trust each other enough to touch each other this much.

But just this much.


Wednesday, 18 April, 2001

Check out Cordon Bleue school - story?

Shopping: Paper stuff, soaps, lotions.

4:00 via degli Orti Oricellari - meet at corner, behind station, in front of bakery.


Wednesday, 11, April, 2001 - arrival in Milan

5:50am - Train from Florence SMN to Torino Porto Nuova.

The beginnings of film. The magic boxes. Beautiful!

And the illuminated scenes - Venice, palaces, etc. First seen lit from the front, and then disk falls and night comes up - all those little (literal) pinpoints of light.

Picture downstairs at the Bellevue Hotel. Pastel-ish, as if painted on film. Of a little girl in a dress standing near a table. Do a film like this - the feeling of being brought back in time - with ghosts - see the earliest of silent films (from the museo: a woman blowing a kiss; a man fighting a kangaroo; a giant wrestling a dwarf; a train arriving in a station.)

Wine: Vernaccia (San Gianangomo - whatever)


Sunday, 22, April, 2001

12:50 - Train to Milano

Albergo Cantore
Corso Porta Genova 25
08-835-75-65

Call Antonio on cell.

Go toward Castle Sforseza at end of Via Dante. Small blue car.


Monday, 23 April, 2001

Haven't seen Antonio in over a year, yet he remembers every little detail from the last times we saw each other. Why does that surprise me? We talk about being alone - he doesn't think he'll ever want a serious relationship, and I'm starting to feel that way too. I tell him I feel so lonely sometimes, but listening to the empty chatter that seems to make up most people's relationships - I don't want that!

And neither does he. His only regret is that he'll never have children.


Tuesday, 24 April, 2001

Antonio is going gliding this morning, so he drives me to Malpensa airport. My last memory of him is saying goodbye outside the airport, taking pictures of each other, and saying goodbye. But I prefer to remember him earlier, in the café where we had breakfast and he pored over his aviation maps while I drank hot chocolate and he drank coffee. In his windbreaker flying pants, his hair still messed up.

In the airport, I go into the ladies' room, pick a stall and sit there and cry. Not sadly, but wildly. I feel so alive here, and I know what I'm going back to. A part of me is screaming inside: "Are you crazy?!? You're leaving this behind?? For what??!?"

But I know that what I have here is not something I can hang onto. It is something to visit - living in it would not work.


12:25pm - Flight UA971 to Dulles

Thinking about last night.

It's an act of faith. Faith that he will understand, will appreciate, won't hate you for it, won't think you're degrading yourself, will know it comes from love.

Faith includes the possibility that he won't understand or appreciate. But faith says do it anyway. That's faith.


Later - They're showing "Red Planet." The "action" doesn't work, because there's no movement. People just sitting or standing there - even fast CU flashes don't do it. There is no INTENSITY of XCUs!

Timing seems to lag…

Also, it's not made clear enough what the situation/rules are. i.e., WHY can't she be on the shuttle too? We aren't sure.


On a personal note, I think I'm going to be OK. 1) I am as passionate as ever about my films, and always will be; 2) I know I'll never be "content," and don't want to be. I know there will never be a clear cut line between my life as an artist and my love life. I know my love life will always be in turmoil, and will keep me in turmoil - that won't stop me from being an artist; 3) If anything, holding back from life, remaining celibate, will hurt me as an artist. You need to experience life, and be touched by it, in order to "art" it. Don't ask me what that means; 4) One possibility: A group of lovers - all over the world, but NOT where I live! Men I trust, care about…


Back to Mars: Most importantly, we don't CARE about the people. When whatshisname sacrifices himself, we DON'T CARE - in spite of the "development" of his interest in "deeper" questions - doesn't work. WE DON'T KNOW WHAT HE CARES ABOUT - SO WE CAN'T CARE ABOUT HIM!!

The dialogue is stilted and unnatural.

Oh yeah, and all of a sudden they can breathe on Mars. I'm buying this, yeah.


Back to me: Is this (my "plan") the promiscuity of the failed romantic?

And if it is, is it the next best solution?

After all, I have failed.


Mars: And it's predictable: 1) We know as soon as they start talking to "Amy" - the spider walking machine - that it is NOT their friend. 2) We know they will be saved at the last minute when they are suffocating. WHY? Why aren't we really scared for them?

It's important to watch badly done movies, and to think about them, and understand why they don't work, so you don't make the same mistakes.


Me: OK, my life is not meant to be easy. And this part is hard. But I don't see an easy way out that would be satisfying.

Let me say that again: I don't see an easier way of living my life that would be satisfying.

Mars: The robot spider thing is not menacing - more silly. We are NOT DRAWN IN.


6:00pm - Flight UA01 to LAX

"Don't Tell Me Cause it Hurts" - the song Antonio was playing in his apartment - I'll probably never know who sings it. I'll probably never "have" it. And that makes me ache. And that is appropriate.

It's been so long since I've missed someone like this. I'm glad for it, and I hate it.

The things I love are wild. You can't have them.


Later - What I did learn on this trip is that I touched him too. I had an impact on him. I may not be able to have him, but that doesn't stop me from touching him. And remember how powerful I felt last night… and how surprised I was at how much I needed to give. Even more than to receive.

Pink Paws - my first cat - was so wild when we got him. Mother wanted to wait and get another one, but I wanted to keep him. So we did. And he became tame. And my friend.


8:15pm - Arrive LAX

Luca, on the way home tonight, the moon was full, and I thought "can't sleep, cause the moon, reminds me of your face." I miss you, too. And I don't feel right since I've returned - like I left my soul behind and it hasn't caught up with me yet. It moves slower than I do.