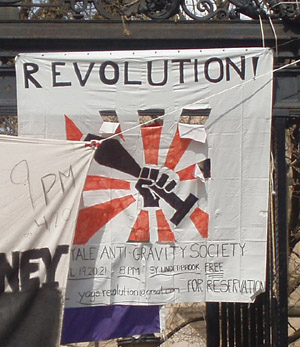 So, after the dreadful yet not-entirely-unexpected letdown of the New Haven "Cherry Blossom Festival", I was thrilled to see this banner hanging on an immense iron gate at Yale University. Only after getting home and back to my computer did I discover that the "Yale Anti-Gravity Society" is nothing but a bunch of jugglers. Posers. Running dogs of the lifted class.
In hunting down YAGS (please!!! You're taking a stand against gravity and all you can come up with is YAGS??? I may have chosen the obvious acronym but at least it means something!) I did come across this . And can I just say "Oh. My. God." I didn't know these things still existed!!! Here's the story: Some 20 years ago, I and my two friends Aaron and Wayne marched ourselves down to the official student organization office of UC Santa Cruz and registered "Students Against Gravity" as a student organization. I'd like to think we were the first ever to do so, and in fact, our manifesto is the first result to appear on a Google search of "Students Against Gravity" thank you very much.
Anyway, Aaron insists that we came up with the idea together while perusing the Communist Manifesto one day, but the truth is that I came up with it first and sketched out the manifesto before Aaron was even involved in the struggle. It was this seemingly minor clash that led to the Great Rift and the eventual decline and yes, fall, of the organization.
But today I learn that not only has the movement continued to flourish, it has grown! Here is one site. devoted to the cause. And another. Legions of proud supporters make mention of their SAG affiliation on personal websites and MySpace pages. There's even a theme song!
And no "Jeff" , I'm sorry but you and your friend Scott did not start the Students Against Gravity "club". Please. I suspect this guy is actually a plant from the outside whose "club" is nothing more than an effort to discredit the entire movement and make us look silly. Well, go for it Jeff and Scott. We'll see who's left standing when it all comes crashing down.