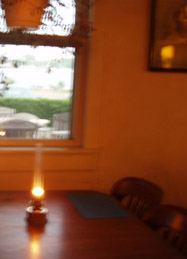 We took our son here the other night. A totally charming, eccentric "feminist restaurant and bookstore with a seasonal vegetarian menu." It was really lovely, and the woman who sits at a desk up front and takes your order (one of the owners) was completely charming. We bought both cookbooks, though god only knows when I'll have time to do anything from them. Oh and the food was delicious! Especially (seriously) the grilled tofu thing on rice noodles. And the mango-ginger ice cream. We're going back.
Oh! And here's what one of the signs at the kitchen window says (it's all self-serve, no tipping, you just bus your own table) — I'm paraphrasing: "As all women are subjected to social oppression regarding their size, and we are opposed to that, please refrain from bitching about the caloric content of the food you enjoy here."
Or words to that effect. I can't say I feel oppressed, but I do feel 20 lbs heavier than before I was pregnant, and I'll take my allies where I find them.