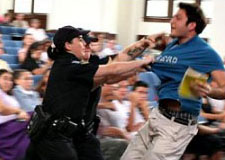 Guy and I were awakened this morning by the glass door to our little porch banging in the wind. "Did you open that?" Guy asks me groggily. I get up and close it, surprised that the wind was strong enough to pull open what I had thought was a locked metal and glass door.
As we get started with our day, I am anxious because I need a bunch of time on the computer. But there are logistical things we need to sort out re: finding our short-term place in Mountain View, and it drags on and on and it's stressing me out. Then my mother uses the toxic non-stick pan to make Guy an omelet and the bad sugar and corn-syrup bread to make him toast. I start to tell her it's not the good bread and we should actually just toss it. She asks what's in it that's so bad, and I snap at her, stressed because it's now past noon and I still haven't gotten on the computer yet. "I'm busy now," I say, switching gears. Then I feel bad. And I know I can't write about Ron Paul when I'm feeling this way. So I do some surfing and research first.
I read the stories about the Florida U. student who was assaulted and tasered by University police for trying to ask John Kerry some tough questions. I am sickened by it. Enraged. I rant about it to Guy and my mom. The man's screams as he is tasered — I've heard tehm before, on other videos of other victims of the police — eat at me. They get under my skin. The contrast between his shouting before they taser him and his uncontrolled cries and whimpers during and after is sickening. Truly sickening. And again I feel helpless to fix the revolting mess our culture has become. I just despair.
The wind outside continues to bang at the windows. I open one, to let it in a bit, and when I do I am compelled to listen to it. It is carrying something with it, and I am compelled to listen, to stand there and try to feel it, to hear what it is telling me. It reminds me of Japan, when in the stillness I could sense when something was coming toward me. Or Park Slope, when, if I stood still and listened at the right time, I could almost feel Miles in the rustling of leaves in the breeze.
Guy and my mom sing:
"Row row row your boat
Gently down the stream
Merrily, merrily, merrily, merrily,
Life is but a dream…"
The words are a little haunting. Life is not a dream. That's a bad joke. Or is it life that's the bad joke?
The wind continues, and my mom recites the poem asking "can you see the wind?" And no, you can't, but you can see the leaves move and the water ripple.
And then my little boy falls in the other room, where my mom is watching him. At first it doesn't sound too bad, like an earlier "bonk" today when he hit his head on the side of the bed. But by the time I get to the bedroom, he's not just crying he's screaming. He never screams. My mother is holding him and I take him from her, his sobs coming in staccato now. I hold him close and rush him into our bedroom where I put him on the bed, tear off my shirt and start to nurse him. We can't find any marks on his head or face (my mother thinks he banged his face), but some red patches around his left ear and cheek. I nurse him until he falls asleep.
The wind is still wailing outside and I know I must not shut it out. That I must create the silence necessary for me to hear it. And it occurs to me: If everyone in this country could hear the cries of that young man who was tasered; or even a fraction of us heard the cries of all the people harmed by our stupid government polices here and abroad — if people heard that, the wails, the cries, the sobbing and the whimpers — if they heard it all, then it would have to stop. It would have to. Wouldn't it?
The problem is that those cries are not heard. They are suppressed somehow. They are far away from the ears that need to hear them. But they can't be held back forever. One day, the wind will pick them up; they will burst out of whatever vessel contains them and bellow forth, sweeping across lands like a tempest, howling and wailing, baying at windows, demanding to be heard, tearing open doors in the early morning hours so that people have no choice but to listen.
And then something will have to happen. Because you cannot hear cries like that and not do something. When you hear your baby scream like he's never screamed before, you grab him. You comfort him and then you make sure that whatever made him scream never happens again. People will act. We have to. It's in our blood.
At the beginning of the day, I felt like I was losing my grip. Now I feel like I'm getting something back. Getting back in touch with… everything. A little.
When Miles died, I went numb. Since then, the feeling has returned bit by bit, but not wholly. Today, something burst through the numbness. The wind? Whatever. Something has, and I feel connected again. Connected to the natural world now, to the wind and the spirits that ride it.